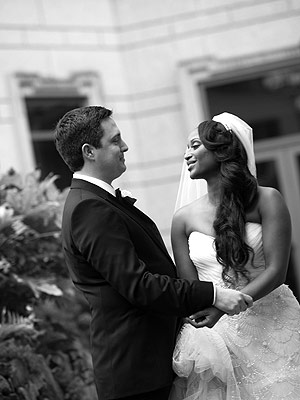 CNN anchor Isha Sesay made her own news Sunday night,
marrying
fellow CNN staffer Leif Coorlim in Atlanta. The couple tied the knot in front of close friends and family at the
Mandarin Oriental
Hotel, the ceremony moved indoors from
the English garden
after CNN meteorologist Jen Delgado predicted bad
weather
. "Our day exceeded my wildest dreams," Sesay tells PEOPLE. "It was magical. When I saw Leif standing at the end of the aisle, I felt as if my heart would explode. I married the man of my dreams in front of the people we
care
about the most. And then we partied the night away." The bride wore a strapless, custom Amsale
gown
featuring elaborate beadwork. Congratulations to them.
People Magazine.